As simulations drive a large portion of product development, reliance on test-data at critical development stages is invaluable to further our understanding of reality and assess our simulations. Among a wide variety of tests conducted today, the test-data can be broadly grouped into coupon-based (for material calibration), component based (for sub-system validation) and full-system tests. The costs associated with these tests vary.
The challenge for any simulation engineer lies in their ability to 1) access the test data in its raw or sanitized form, and 2) have the ability to overlay against their simulations as quickly as possible. Today, in most companies, the test-data and the simulation-data are housed separately which decreases the visibility of the test-data significantly. In addition several challenges still exist in processing the raw-test-data and making it available in a form that can be utilized easily by the simulation engineers.
d3VIEW changes all of this. Since its initial version, d3VIEW has developmental features that are aimed at increasing the visibility of the test-data for simulation engineers and providing them with a seamless interface to overlay test data to asses their simulations. Figure below illustrates the importance of having a single platform, as in d3VIEW, to facilitate accessing both simulation and physical tests using identical storage/transformation/visualization. This post provides an overview of several features that are available in d3VIEW to manage data from simulations and test-data from different formats.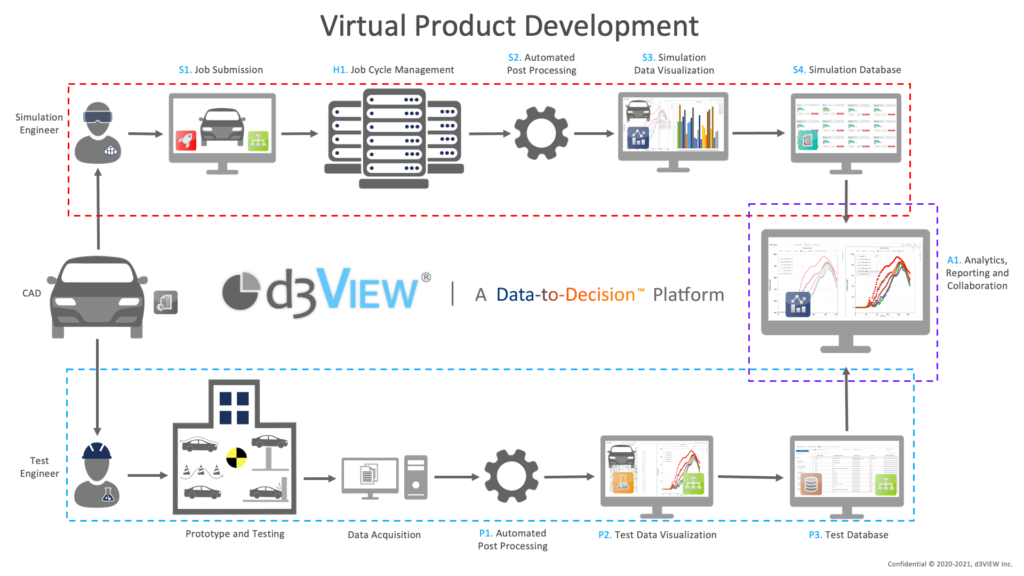 1. Workflow-based test data import, sanitization and storage
d3VIEW's Workflows application helps make data-import, sanitize and visualize easier by automating data processes. We set up workers to perform an array of tasks that are performed consecutively, or in tandem for parallelization (more on Workflows here). Tasks can range from applying templates, mathematical transformations as well as creating reports.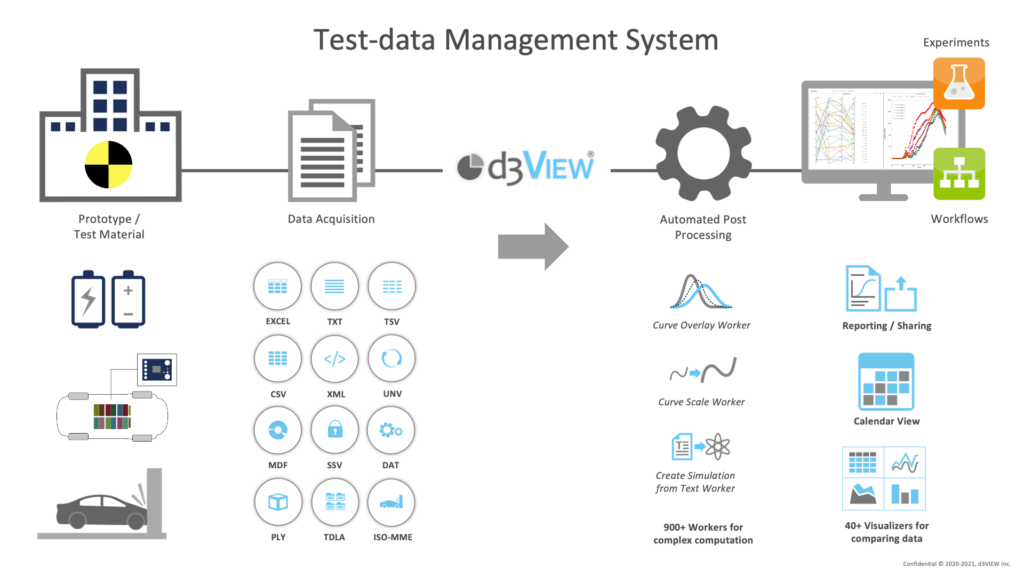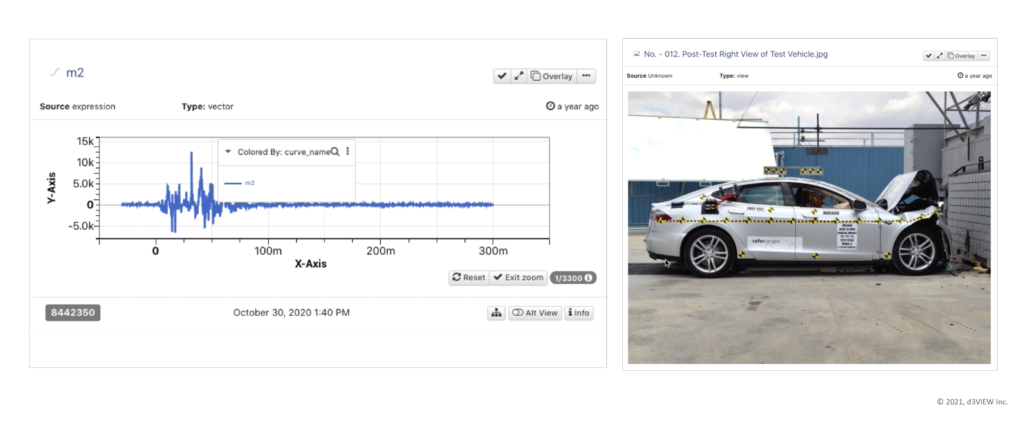 2. Supported test data formats
Test-data comes in a variety of data-formats and supporting these formats is critical to bringing data from different labs. The following table indicates the different formats currently supported by d3VIEW and is growing. The readers are designed to be fast and can run on multiple OS in single or parallel processing.
3. Pairing and Overlay of Test vs CAE data
Once simulations are submitted, physical tests are uploaded to the platform and any necessary data integrations have been performed; the simulation and physical test responses can then be compared, analyzed and explored using d3VIEW's data visualization application Simlytiks® (more on it here). This application houses a rich and extensive library of visualizers, or graphs and charts, that can be utilized in different ways. Let's go over a couple of key processes we can utilize to prepare, integrate and explore test and CAE data together.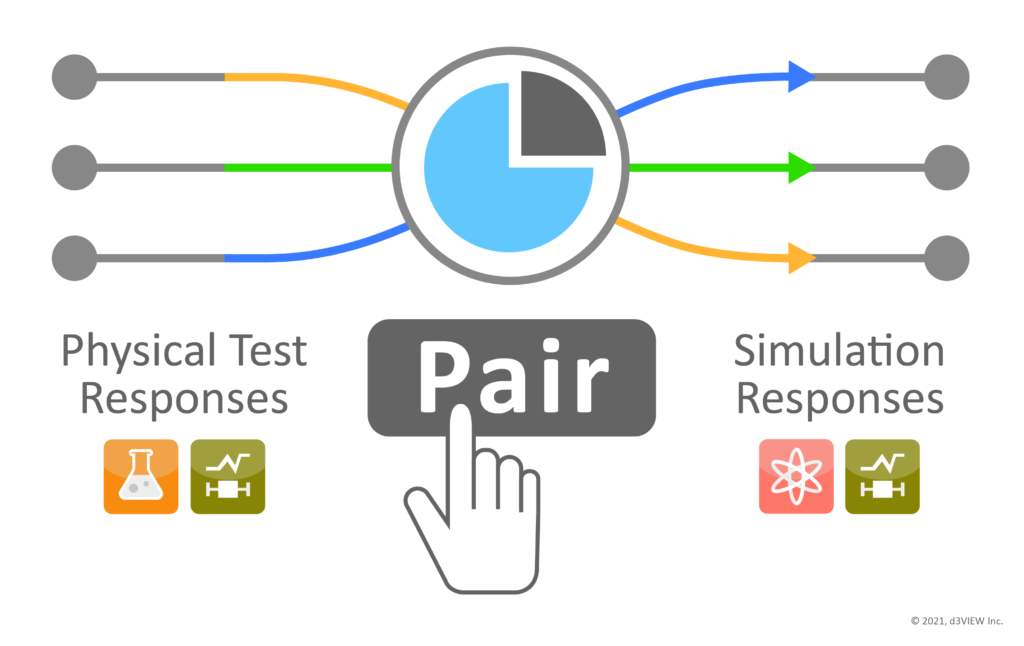 Pair simulation and physical test data using d3VIEW's new Match Maker feature. The interface makes it simple to map one set of data responses to another if response names are not exactly the same.
4. Time Series Data Viewer
For time-series data, Simlytiks® offers the Curve Plot visualizer, where physical test and simulation responses can be overlaid for easy comparison.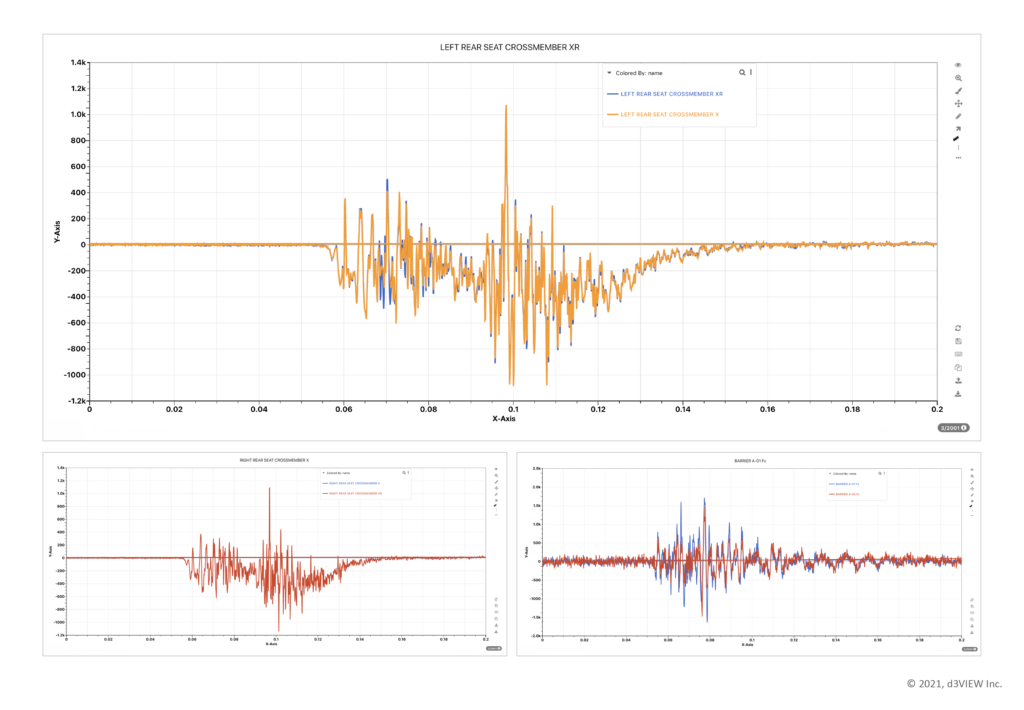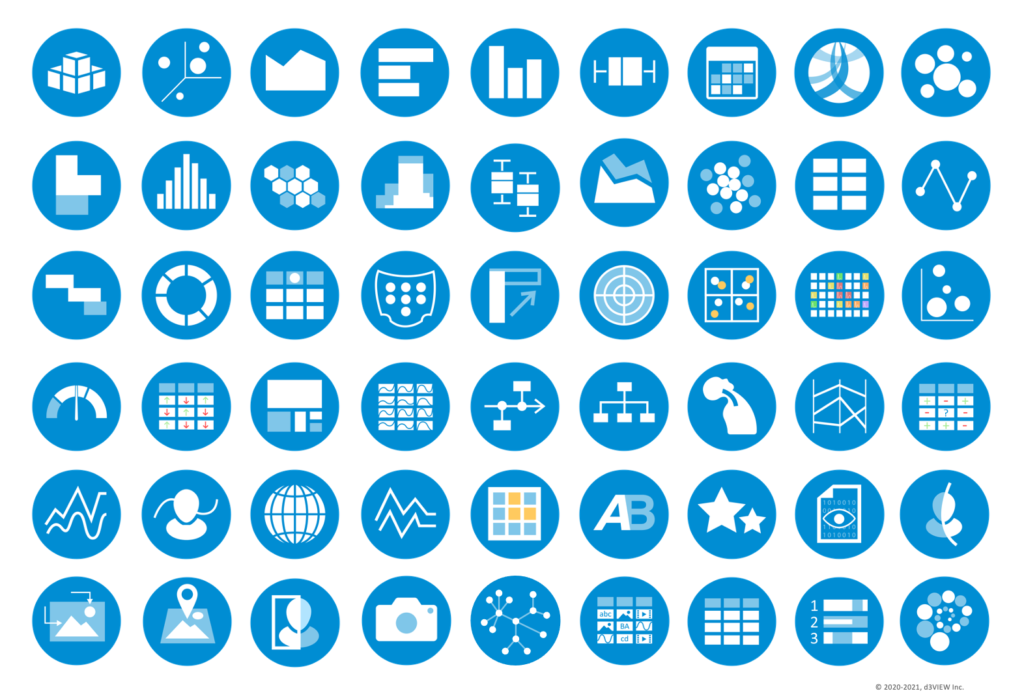 5. Image Re-Orientation and Overlay
The Image Analyzer visualizer helps overlay and interpret differences of two images of the same dataset. We would compare two matching media responses from a simulation and a physical test using different comparison tools, so we can thoroughly and effectively find similarities and differences. The following images illustrate a few different Image Analyzer modes that help with examining a similar simulation and physical test response using the public Yaris car test example.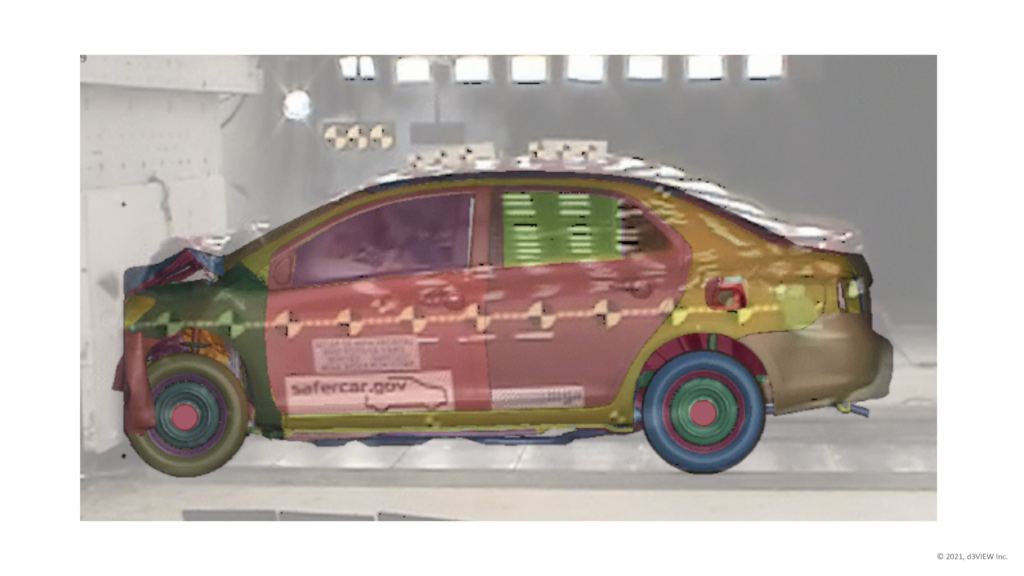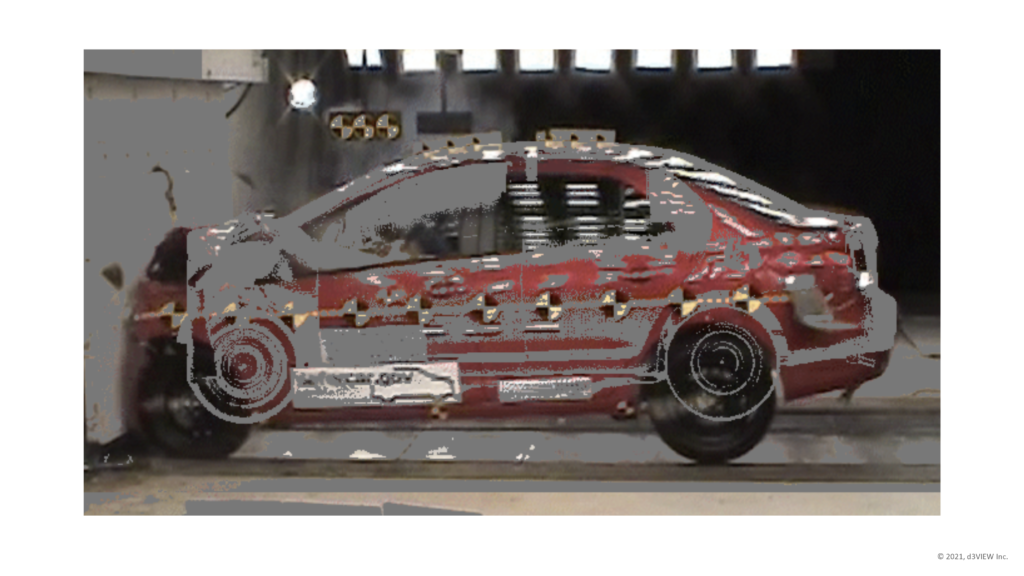 The following shows an example of creating a synced overlay with Image Positioner.
Future Advancements
The pairing of physical tests and computer aided engineering enhances our innovative design process. With the multitude of tools that d3VIEW offers for this cooperative combination, we hope to enhance and excel this process even more to better support Engineers during their critical design phase.
Co-written by Suri Bala